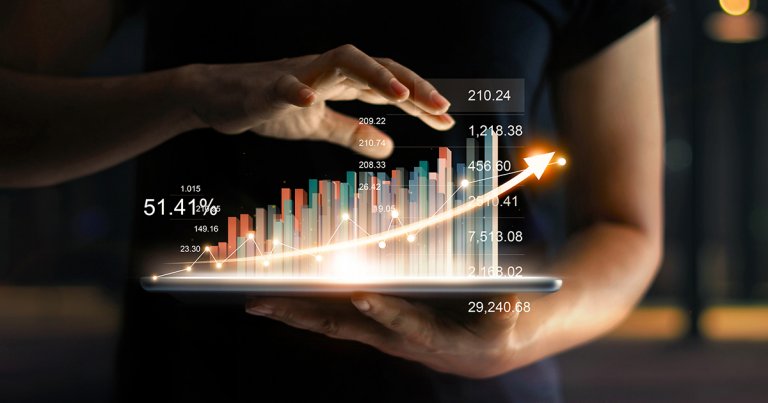 The pandemic affected most of the world's industries and sports betting has been no exception. As sporting events were cancelled or restricted around the globe, sports betting companies reported drops of up to 90% and were forced to find an alternative. Many of them looked to esports, competitive gaming which takes place at a professional level, in an organized format. What appeared to be a temporary solution at first quickly turned into an actual business vertical. Understanding its huge potential, betting companies directed resources and expertise towards the new area, with the objective of making the most of this opportunity and growing both their revenues and audience pools.
OddsMatrix is a sports and esports data API that covers live and pre-live odds for over 1000 esports competitions. In this article, we'll offer you a deep dive into the esports industry and its interaction with betting. We will go through data from our State of Esports Betting 2020 report and analyze some of the most important global reports on esports statistics, covering: market size, top streaming platforms and influencers, content preferences, top publishers and league and tournament earnings.
Moreover, we also looked at how data collection and accurate interpretation contribute to better gameplay and increasing betting odds.
Just how big is the industry: esports growth in 2021 and what to expect for 2022
The growth of esports is a topic that has made headlines in the past years.
The Newzoo global esports report issued in March 2021, assessed, at the time, that the industry's audience would reach 474 million people in 2021, experiencing an 8.7% increase compared to the previous year. Out of these, 234 million were expected to be esports enthusiasts – users who watch professional esports more than once per month. At the time of writing, Newzoo has yet to confirm the final 2021 numbers.
In terms of revenue, the market's value was estimated at $947.1 million in 2019. The study showcases that the number was expected to grow to 1.08 billion, by the end of the previous year, and reach 1.617 billion, by 2026.
The most avid esports consumer is China, followed by the United States and Western Europe.
According to esportsearnings.com, the total prize pool for the 2021 esports events was over $200 million, split between over 4,000 tournaments and more than 21,000 active players.
For 2022, the premises appear to be good, as esport news platform Dot Esports expects growth for all major games that allow online play, such as League of Legends, CS:GO, VALORANT, Dota 2. With offline events occasionally subjected to restrictions, digital tournaments will be gathering record streaming numbers, attracting talented teams, viewers and most important: bettors.
Covering a huge chunk of the esports tournaments and leagues, OddsMatrix Esports Data APIs is a great solution for sports and esports betting providers to build their business with the most reliable and accurate data.
Why are Esports so hot: the Stakeholders
There is a complex landscape responsible for esports growth, which involves different types of stakeholders.
It all starts with the game publishers, the companies that create (either in house or by working with outside talent) and deploy the games, managing operations, updates and new feature releases. They target consumers and players, but, in order to reach those, they need to make their products known.
To drive awareness and engagement, publishers work with tournament organizers, broadcasting companies that live stream events, pro players and influencers. This is how they generate interest and word-of-mouth around their games.
This whole ecosystem is fostered by financial resources, which are supplied by sponsors. Usually, these are brands that gain value by associating their images with online games and which create in-game activations to engage fans.
The dynamic landscape quickly created a path for betting agencies and esports bettors alike, which identified a promising niche. The increased viewer interest in esports statistics and strategies has subsequently led to a significant increase in esports betting.
Esports betting industry growth
We've shown that the rise of esports goes hand in hand with the development of esports betting. The industry was forecasted to reach between $12 and $15 million, in 2020, according to our The State of Esports Betting report, with FIFA and NBA2k amounting to up to 80% of the total betting volume.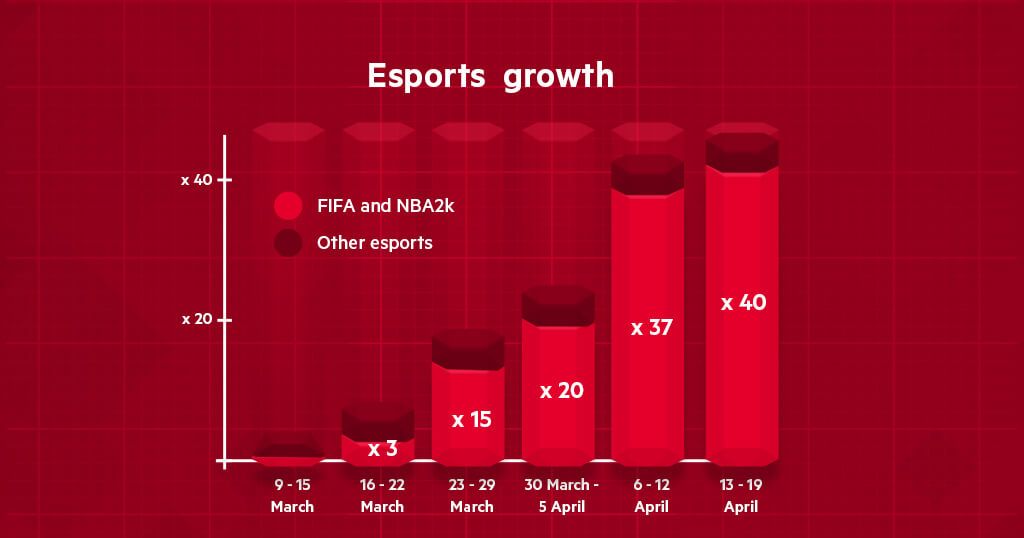 Source: OddsMatrix betting data across 10 bookmakers, 2020
Specialists assess that, as long as there is a regulated framework that ensures integrity, esports betting will position itself as an important vertical, which generates revenue for the ecosystem. This means that esports and esports betting will continue to be global forces for a long time.
As a bookmaker, you need to position yourself as the esports betting provider of choice from the get-go. For this, you will need time-tested solutions which deliver. OddsMatrix offers A-game solutions, enabling you to successfully approach esports enthusiasts and build trust and interest around your betting offers with verified data, betting odds, scores, and settlements. You can buffer the drop in traditional sports betting with pre-live odds for events like FIFA World League or NBA 2K20 Cyber League.
Top esports to generate betting volume
There are two categories of games that we need to take into account when it comes to esports – simulations of real-life sports and classic games.
Sport-simulated games
Based on experience and from gathering figures from our partners, we've seen that sport-simulated games benefited from a significantly faster adoption rate among sports fans. This makes sense since audiences who are already familiar with the rules and regulations of a certain sport only need to apply their know-how in a different, digital setting and at a much higher pace. Moreover, even before lockdowns, people who enjoyed football were clearly familiar with FIFA, while those who followed basketball were also no strangers to NBA2k.
What changed was the fact that the digital world has seen an increase in sport-simulated tournaments and competitions, with the NBA2k Players Tournaments having its first edition in 2020.
Among the attributes that attract sports fans to simulated sports, high-quality streaming is one of the first that comes to mind. Compared with traditional sports, like football, tennis or basketball, the ever-improving Internet connectivity makes it easy for streamers to deliver engaging content. Another, even more, jaw-dropping attribute of sims sports is the money. For the 2021 season, EA has distributed $3 million USD in prizes across Qualifiers, Regional Playoffs, the eChampions League, and CONMEBOL eLibertadores.
Classic games
When it comes to the betting volume for classic esports and the interest generated, the most popular game appears to be League of Legends (38%), followed closely by CS: GO (29%), Dota 2 (18%) and Starcraft 2 (7%).

These are also the games that have the highest number of impressive tournaments across the world and which bring together worldwide teams to compete for millions of US dollars, in prize pools.
To give you an idea of the scale the industry operates at the prize money for the 2022 LoL World Championship is $2.225 million.
What are audiences watching: top game publishers, tournaments and leagues
International players populate the global esports market, attracting interest from hundreds of millions of fans.
The rise of esports brought with it a wide pool of dedicated events and tournaments where teams compete against one another for impressive prizes. Similar to sporting events, tournaments contribute to esports growth through media rights, sponsorships, vendor sales, ticket fees, royalties, and, of course, betting.
This financial ecosystem enables organizers to offer impressive prizes which often make headlines. The size of events, as well as the teams and players taking part in them, encourage esports enthusiasts to engage in betting activities.

OddsMatrix supports your betting activities covering real-time pre-live and live odds for a wide range of esports titles, such as FIFA, NBA2k, LOL, Dota 2, CS:GO.
The in-house team prevents fraud by monitoring markets and odds 24/7 and cross-checking info for accuracy. Moreover, the platform offers rapid and correct final results for all esports included in its portfolio.
Most popular companies with huge revenues and the highest prizes:
Electronic Arts (EA)
EA is known as the pioneer of home computer games and, currently, one of the world's video gaming giants. The company, which is headquartered in California, and has offices around the world is known for legendary franchises, like FIFA, Madden NFL and the Sims.
The studio has generated $5.63 billion in net revenue in FY2021.
FIFA
Its soccer product, FIFA, is, as Statista shows, one of the best selling PS4 video games, capturing audiences worldwide. In 2021, the game didn't generate much esports enthusiasm, given that its World Championship has been cancelled because of Coronavirus restrictions.
Still, in 2022, the brand plans to change things and is working on several tournaments and events, open to players in over 70 countries, with the most important being FIFAe Club Series 2022, FIFAe Nations Series 2022, EA SPORTS FIFA 22 Global Series – building up to the FIFAe World Cup 2022.
Of course, similar to traditional soccer, FIFA also generates an important betting pool. EA's full-year revenue for 2021 reached $5.6 billion. Almost 30% of that total came from Ultimate Team modes (FUT), the remaining 70% representing extra content revenue that includes betting.
Before the pandemic and massive rise in esports, the traditional 2018 FIFA World Cup had a betting turnover assessed at Euro 136 billion, according to an analysis carried out by FIFA and Sportradar. The average match generated Euro 2.1 billion in bets, while the final between Croatia and France drove an impressive Euro 7.2 billion in worldwide betting turnover.

OddsMatrix State of Esports Report 2020 Sports vs esports turnover March-April 2020
Take-Two Interactive
As the third-largest publicly listed company in the U.S. and Europe, Take-Two Interactive is an important player in the industry. The company closed FY2020 with $3.37 billion in revenue.
Some of the most popular names in the company's portfolio include franchises like NBA2k, Grand Theft Auto, BioShock, Red Dead or Borderlands.
NBA2k
The NBA2k League is proof of the huge potential that esports has in attracting mainstream audiences. The 2020 event was broadcast on ESPN 2 and ESPN's digital platforms, on Canada's Sportsnet in Canada, Southeast Asia's eGG Network, and India's Loco. These were the first times 2k League games were shown on linear television.
With so many international viewers following it, the esports event also generated enthusiasm from worldwide bettors.
Push NBA2k odds and scores updates in real-time or pull NBA2k data you need in your betting application and engage bettors with OddsMatrix.
Tencent
The world's biggest video game publisher is Tencent, the Chinese organization which registered $29.3 billion in revenue from gaming, in 2020.
League of Legends
The Tencent group owns Riot Games, creator of free-to-play titles like League of Legends, the multiplayer online battle arena (MOBA) game, and VALORANT, the first-person hero shooter. These are, some of the most powerful brands in esports and in esports betting.
With over 115 million players worldwide and more than 12 leagues which last for about 7 months/year, League of Legends is a strong brand for professional tournaments. The most successful of them is the League of Legends World Championship or Worlds, which brings together the world's top 24 teams that compete, for 4-6 weeks, for millions of US dollars in prize pools.
The 2021 Worlds meant 135 hours of airtime, 175 million hours watched, 1.3 million viewers and 4 million peak viewers.
With OddsMatrix, bookmakers have access to live and pre-live odds for some of the world's S-tier LOL tournaments.
These tournaments have outstanding prize pools of millions of US Dollars and bring together the most reputable players.
Strong examples include LPL Spring where the winner will be awarded $315,562 for the 2022 event.
LOL World Championship gathered twenty-four teams from across the globe to stake their claim on the $2,225,000 prize pool and LCK Spring 2021 tournament had a prize pool of over $300,000.
Check OddsMatrix LOL Data Feed coverage.
VALORANT
Since its release in June 2020, VALORANT sparked much enthusiasm, thus leading to a high number of tournaments popping up across the world. Still, the most popular is the VALORANT Champions Tour, which lasts for a whole year and features the world's best players. In 2021 the tournament had a pool prize of $1million.
Being part of the event is the highest goal a team could have, because of its prestige, while winning is the utmost recognition. VCT is extremely popular among bettors and has been listed on numerous betting sites starting in 2021.
OddsMatrix covers over 50 VALORANT tournaments, including the VCT, for which we cover pre-live and live odds.
Tencent is also a minority shareholder in other video game companies, like the American Epic Games, Activision Blizzard, South Korean Krafton Game Union, and French-native Ubisoft, which means the company is bound to generate even more revenue from esports and foster the esports betting market.
Activision Blizzard
Activision Blizzard was formed in 2008, through the merger of two American game companies, Activision and Blizzard Entertainment. The California-based studio is known for its worldwide appreciated games, like the iconic Call of Duty and the World of Warcraft series.
In 2020, the organization generated over $8 billion, thus contributing to the overall esports industry growth. In January 2022, Microsoft announced it will buy Activision Blizzard in an all-cash transaction valued at $68.7 billion, which will be closed in 2023.
CS:GO – Call of Duty
CS:GO is extremely popular as an esport. Players across the globe want to compete with one another during important, prestigious leagues and tournaments.
In 2021, the esports event took place between January 23 and August 21 and brought together 12 teams, which wanted to get a chunk of the $5 million prize pool.
One of the esports events with the longest history appears to be The Arena World Championship (AWC), which will reach its 15th edition in 2022. During last year's event, 8 teams from the Americas and Europe competed for prizes worth $900,000.
Bettors from North America, Europe, Latin America, Asia and India followed the event, trying to generate their own revenues, by identifying the winners. This huge, diverse audience meant the betting market was extremely high for this particular event.
With a prize pool of $163,000.00, BLAST Premier Fall Showdown was a very engaging event for bettors in 2021, generating impressive betting revenue.
Other highly regarded CS:GO tournaments added to betting offers are: Republeague or Elisa Invitational.
Here you can find an exhaustive list of pre-live and live odds covering over 400 CS:GO Leagues and Tournaments.
Esports viewership statistics: how many people watch esports and where
As the Streamlabs & Stream Hatchet Q3 2021 Live Streaming Industry Report shows, Twitch is the definite leader when it comes to gaming viewership. The platform closed Q3 with over 70% market share in watched hours.
The past year also marked the closing of the gap between Youtube Gaming and Facebook Gaming, competing for audiences, as Facebook Gaming overcame Youtube, by 160 million viewers, registering 15.7% market share, compared to 13.8%.
Twitch
Since the start of the lockdown, Twitch benefited from the esports growth, becoming the number one streaming platform. Still, in Q3 of 2021, compared to the same year's Q2, the social network experienced a small decline. Viewers watched 5.79 billion hours, 11% less than the previous quarter.
Facebook Gaming
Facebook Gaming has been the big winner of 2021 and it has managed to rise and overtake Youtube Gaming in terms of market share. This success is mainly attributed to the social network's overall adoption rate, as well as to Meta's involvement in improving live streaming functionalities.
The company provides protection to content creators, enables them to use copyrighted music in the background of their streams and has a dedicated program for the next generation of black creators.
Moreover, Facebook Gaming also benefits from a co-streaming feature that enables users to stream together, while viewers may choose who they want to follow.
In Q3 2021, the network's audience watched 1.29 billion hours of content, almost 60% more compared to the previous year.
Youtube Gaming
What differentiates Youtube Gaming from Facebook Gaming and Twitch is the fact that it registers a high number of channels that organize professional esports events. Still, the company is dedicated to increasing the presence of individual creators, by offering them the necessary tools to express themselves.
In order to boost its activity, Youtube Gaming is working on attracting talent from competitive channels. In 2021, the platform became the playground of live streamers, TimTheTatman and DrLupo, known for their Twitch viewership records.
In Q3 of 2021, the network's audience watched 1.13 billion hours of content.
Esports is growing and this is what fans are watching: Content Insights
The esports viewership growth has led to a diversification of content, with many esports enthusiasts looking for a variety of videos, which enable them to get tips and tricks, understand the strategies of teams and individual players, their success rates, as well as enable them to assess tournaments better, to ensure their betting strategies generate revenue.
According to the StreamLabs Stream Hatched Q3 2021 report, the most popular categories watched by fans included League of Legends, with 442.57 million hours, a game extremely appreciated on the esports and betting scene.
In comparison, FIFA 21, averaged 36 million watch time hours per month, from August 2020 to August 2021, while, just in December 2021, VALORANT fans watched 98.1 million hours of streaming and over 18 million hours of esports.
Top esports teams
The rise of esports has made esports teams transform into actual organizations which have decided to compete in different disciplines, fostering and attracting talent for several games, such as League of Legends, Dota 2, Fortnite, and Counter-Strike: Global Offensive.
These institutions are followed by millions of worldwide enthusiasts and betters, which use social media to get to know their strategies and gameplays, see how many hours players practice and follow them live.
Some of the teams preferred by betting fans all over the globe include:
Team Liquid
With over $38 million in prizes, Team Liquid is considered by many the world's best esports team. The organization founded in 2000 focuses on Dota 2, Counter-Strike, League of Legends, Starcraft and PUBG.
Top players include Ivan "MinD_ContRoL" Ivanov, Kuro "KuroKy" Takhasomi, Maroun "GH" Merhej, the number one Dota 2 players in their countries – Bulgaria, Germany and Lebanon. The 3 players are also included in the Top 10 Dota 2 players worldwide.
Team Liquid finished second in the Fortnite 2021 FNCS Chapter 2 Season 5 NA East Grand Finals, first in Dota 2 tournaments, like ESL One Germany 2020 – Online and the MDL Macau 2019.
FaZe Clan
FaZe Clan is one of the world's most respected esports organizations, because of its numerous victories, the huge monetary prizes won, the endorsement contracts and, of course, the mix of talent and expertise that members bring to the table.
FaZe Clan was founded in 2010. Since then, the teams won dozens of world championship trophies and cashed in over $10 million. The esports in which they compete are Fortnite, FIFA, PUBG, PUBG Mobile, Rainbow Six, Call of Duty League (Atlanta FaZe), Rocket League, VALORANT and CS:GO.
The team that has over 346 million followers across all channels also has an important roster of players that gather important communities and catch betters' attention. Some of the team's top members include Håvard Nygaard (also known as rain), one of Norway's top 3 CS:GO players, Nikola Kovač (NiKo), the number one CS:GO player in Bosnia and Herzegovina and Finn Andersen (karrigan), quoted as one of the top 10 CS:GO players in Denmark.
FaZe Clan has won several CS:GO tournaments, such as the IEM XV – New York Online: Europe, BLAST Pro Series: Copenhagen 2019, BLAST Pro Series: Miami 2019.
Cloud 9
Founded in late 2012, the American esports organization Cloud 9 is an important name in the League of Legends, Dota 2, Counter-Strike: Global Offensive esports tournaments. Over the course of the years, the teams cashed in over $11 million in prizes.
High profile players include Tyler "Skadoodle" Latham – VALORANT Player, Jakey "Stewie2k" Yip – CS:GO Player, Timothy "autimatic" Ta – VALORANT Player.
Cloud 9 finished second in the WESG 2016 (Dota 2), first in the LCS 2021 Mid-Season Showdown.
Creators & Influencers
There is a large pool of creators and influencers that audiences are following on gaming streaming platforms to see their individual performances, as well as support their esports participation. They play an important part in the betting world because every move from one team to another or any activity hiatus impacts odds and bets.
Artour "Arteezy" Babaev
Artour "Arteezy" Babaev is a professional Dota 2 player from Canada and a member of the Evil Geniuses association, which reached second place in the ONE Esports Singapore Major 2021 and the 2021 WePlay AniMajor. With over 170k followers on Twitch and, more than 650k on Twitter, the professional esports player and content creator are also one of the world's most popular Dota 2 streamers.
Turner "Tfue" Tenney
American Turner "Tfue" Tenney is a player for FaZe Clan and a streamer with almost 11 million followers on Twitch and over 4 million on Twitter. He focuses on Fortnite and Apex Legends.
Lee "Faker" Sang Hyeok
Lee "Faker" Sang Hyeok is a Korean League of Legends player, considered by many one of the best players of all time. He is number one in his country. The esports professional has over 3.7 million followers on Twitch and more than 450k on Twitter. He is currently part of the SK Telecom 1, which won several tournaments, such as the LCK 2019 Summer Playoffs, LCK 2019 Spring Playoffs, Rift Rivals 2019 LCK-LPL-LMS-VCS.
OddsMatrix covers betting odds for the esports industry
OddsMatrix offers bookmakers the best coverage in the industry, with the world's most engaging esports markets. The solution focuses both on sport-simulated games, like FIFA and NBA2k, as well as on classic esports, like CS:GO and DOTA 2.
Depending on your needs and your platform's structure, the service may be used as a feed solution or as a hosted solution with a dedicated front-end that is tailored specifically for esports.
What makes OddsMatrix an industry leader is the fact that it continuously adds new esports and betting markets, as well as its full range of benefits. From real-time betting odds, stats, scores and settlements, to fully automated trading. We give you the option to tweak odds and customize profit margins, offering bookmakers a wide selection of valuable features that are meant to make a difference.
Moreover, the OddsMatrix Esports Data APIs offer betting applications access to pre-live and live odds for some of the most popular esports events in the world, created around games like FIFA, NBA2k, VALORANT, LoL and CS:GO
Partner with us and get the most accurate pre-live and live odds for over 500,000 esports events/year for your sportsbook or betting application. .