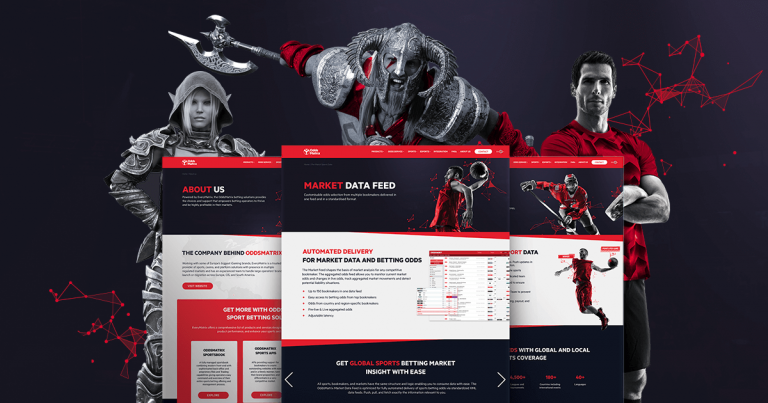 EveryMatrix officially announces the arrival of its dedicated and enhanced OddsMatrix Data Services. This sports data solution provides the best betting choices and support to our clients and their customers, empowering bookmakers, to thrive and grow sports profits in their target markets.
Our data feeds and API solution has been proved to be effective over time, delivering real-time betting odds, settlements, and scores for a wide variety of sports as well as esports pre-match and in-play betting, covering over 70 traditional sports, 23 esports, with more to come soon. All of these odds are published with a true push to the clients' server. Our odds are tested by thousands of players on a daily basis as they are used by the OddsMatrix Fully Managed Sportsbook clients, so we constantly check margins and identify any areas in need of improvement.
The OddsMatrix Data Service covers now over 70 traditional sports, 23 esports, with more to come soon. Clients have access to over 100,000 live matches per month, including 8,500 Horse Racing events, as well as winner-type events.
To date, OddsMatrix Data Services offers 4 main products: Bookmaker Feed, Market Feed, Data Widgets, and Premium Betting Content.
Bookmaker Feed provides accurate betting odds for bookmakers
Essentially, the Bookmaker Feed provides real-time odds, stats, scores, and settlements, all the information the bettors need to get their betting going. Where do we get all this data from? To date, we have 117 pre-live odds providers, 39 live odds providers, and 45 score providers from where we aggregate the data.
The betting markets portfolio is extensive, and it continues to expand with every update. Additionally, our sports and esports coverage includes multiple countries, many supported languages, thousands of competitions, and tons of monthly live matches.
Operators getting the complete data feed package will be offered access to a back-office account from where they can set and control their own odds and customize payouts, from sports to market level.
OddsMatrix offers all the information in over 40 different languages. Clients also have access to a special back-office translation interface that allows them to make their own custom translation that better fits their target audience and motifs.
Get market insight with the Market Feed
The OddsMatrix Market Feed provides easy access to betting odds from up to 150 bookmakers. All betting markets have the same structure and logic. By monitoring current odds, tracking market movements in real-time, detecting potential liability situations, and offering country or region-specific bookmakers, our Market Feed allows operators to get important insights that will put them ahead of the competition. The OddsMatrix market feed coverage includes both sports and esports, and it's constantly expanding.
Data Widgets for easy access to matches
OddsMatrix doesn't just provide spot-on data feeds; it also offers fully customizable sports and esports real-time sport data widgets.
These Data Widgets include live scores, stats, and other match events (such as corners, possessions, winning points) and plenty of other exciting and useful stats for the bettors. The widgets are also optimized to work with all devices and have snappy responsiveness. Now, bettors will easily access information about their favourite teams, games, and tournaments.
Unique and Premium betting content
Besides all the data covered by our product, OddsMatrix provides Premium Betting Content that operators can offer to their punters for exclusive live betting.
This content includes semi-pro matches or tournaments that aren't widely available. Such matches might not be a focus for other platform providers, but since our product strives to offer betting options for as many matches as we possibly can, it includes these as well.
Additionally, OddsMatrix provides coverage for sports and esports simulated games. Our platform is ready to take bettors to the future since the physicality of games is no longer a requirement. These virtual matches will simulate real-life matches with perfect accuracy, which allows for a safe and trustworthy betting experience.
All these modules make OddsMatrix a well-designed, customizable data feeds and sports API solution. The way we provide data is also beneficial for operators and their bettors. We offer it granularly, which doesn't require intensive bandwidth, latency, and technical overheads. This will benefit both the client and the bettor.
EveryMatrix provides 24/7 support and monitoring for all its products. OddyMatrix Data Services has its dedicated account management, trading monitoring, and technical support team to contact if any problems or questions arise.