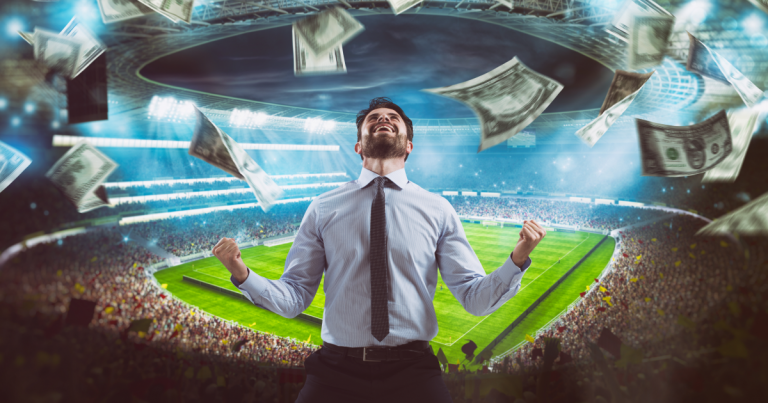 The world of sports betting brings together so many types of personalities, brilliant minds, competitive spirits, and adrenaline-loving people. This is what makes it fantastic for both bettors and sports betting professionals.
Providing time-tested sports data feeds and data API solutions for real-time betting odds, scores, and settlements, OddsMatrix has been in the industry for a while now, and we've seen quite a few wins, losses, and odds-defeating moments.
We curated this article and selected the craziest, most unbelievable sports betting stories of all time. You will hear about winnings that are just too good to be true, crazy bettor behaviour and amazing business ideas all related to sports betting.
Amazing sports betting stories: Impossible wins and sports betting legends
1. @Paranormal_Bass turned $100 into $47.00
Jerry Emer, known as @Paranormal_Bass on Twitter, used his last $100 to bet on the Eagles, in their game against the Giants, in Week 7, of the 2021 NFL season. Although a win for the Eagles looked impossible in the first part of the play, by the end, the bettor managed a five-leg parlay that brought him an astonishing $46,430.94.
Taking the win back to Twitter, Jerry drew social media users his way. His Twitter community grew from 1,800 to 14,500 almost overnight, transforming him into a live sports betting legend.
2. Thomas Martinez, the Humble Beast of betting, created his own winning formula
2021 was a good year for Thomas Martinez, who goes by Humble Beast on Twitter. The bettor became an online sensation after turning consecutive wins into a remarkable $78,000, with small bets of hundreds of dollars on player performance markets.
Everything started with him putting money on Kenyon Marty Jr., from the Rockets, who he believed would score 25+ points against the Bucks. The success brought him almost $4,000 and the confidence to push forward. As he entered a winning streak, things culminated with the Clippers and Mavericks game at Staples. Here, the @_LCaptain placed several bets on Luka Doncic, winning over $28,000.
Thomas Martinez is far from declaring himself a lucky individual, as his recipe for success is a mix of research and a formula he created using online betting tools. To calculate his chances, he looks at seven-game series, enabling him to understand the dynamics of teams and how they behave over time. Moreover, he watches games several times to ensure no detail has been missed.
Humble Beast shares his success with others and has a dedicated clientele to whom he sells picks.
3. Marco Parlay won $8+ million in just a year of betting
Marco Piemonte, also known as Marco Parlay or Million Dollar Marco, won eight parlays of over $1 million each in the past year. Although not a professional sports bettor, the car dealer has his way with wagers. He learned the ropes at sixteen from his father's finance manager.
The biggest parlay of Marco's life was hit on September 25, when he transformed $65,000 into a $2.9 million win at PointsBet. The Australian-based sportsbook reported a steady 16% hold on parlays in the state of Illinois during the first half of 2022, but took a big hit with Marco's win.
4. @kiiLkenny won 48k without even watching the game
Kenny McAndress, also known as @kiiLkenny, drew people's attention not only because he won a bet that returned odds of +119239 but also because he did that in a very eccentric manner without even watching the game.
The man placed $40 on a regular season game between the Atlanta Hawks (-9.5) and Chicago Bulls (+6). When the game started, he watched a movie with his fiancé, who was unaware of the wager. As he followed the box score on the ESPN app, he found out he won the Same Game Parlay, which brought him $47,735.52.
As with similar cases, Kenny's Twitter community grew significantly, but his Twitch followership excites him the most. Here is where the handicapper organizes The Moonshot, a nightly stream that discusses the night's slate of games on which to bet. Hundreds of viewers tune in daily, creating a supportive and engaged audience.
5. A trusting Father – Rory McIlroy's dad won big by betting on his son
Gerry Mcllroy, the father of Irish golfer Rory Mcllroy, bet in 2004 that his son would win the British Open in 10 years – this was way before Rory would become a legend. The £200 wager went almost forgotten among family members until 2014, when the now-pro golfer finished first in the competition, making his father $171,000 richer.
While golfers aren't allowed to bet in tournaments, family members are, so British betting company Landbrokes honoured the bet. The exciting part is that motivated by Gerry's trust in his son, another two friends placed similar bets in 2005, cashing in a combined $136,700.
6. James Adducci – Tiger Woods's biggest fan
In the 2019 Masters Tournament, where Tiger Woods competed after an 11-year hiatus marked by scandals, injuries, and surgeries, the odds were 14-to-1 against him. Still, that didn't scare off James Adducci, one of the golfer's biggest fans.
The 39-year-old Wisconsin man who confessed to seeing Woods as a role model bet on the golfer the $85,000 he had left after his protein supplement business went bust, and after he sold his Amazon shares. The risky move paid off, bringing him $1.19 million.
Crazy sports betting stories
1. The guy that created a business for one single NBA betting market
One of the most popular betting markets in basketball is the NBA First Basket, a low-stake wager that returns great dividends due to the odds consistently positioning themselves around +500.
Understanding the market's potential, in 2021, Ryan, a sports bettor from Indiana, created a Twitter account dedicated to it, the @NBAFirstBasket. He started sharing information, data, and predictions generated using his proprietary data models with a friend.
The account is successful, and it brought community members incredible wins. The smallest wager placed appears to be $0.38. The sum brought in a $1,000 profit. The most significant success was as big as $40,000.
This story proves, once again, that offering the right range of betting markets is an excellent way to attract bettors. This is why OddsMatrix gives you access to hundreds of markets for each sport and esport we cover.
2. Sportsbook glitch works in favor of bettor
Landon Coleman placed a $100 Same Game Parlay on a game between the Cincinnati Reds and the Pittsburgh Pirates in Major League Baseball. While he chose six relatively safe bets, he noticed that the odds were +200,000, an aspect that confused him terribly.
The protagonist placed his bet right before FanDuel Sportsbook fixed the glitch. While the error wasn't online for more than a couple of moments, the bettor managed to benefit from it and collect a staggering $112,000 win. Accepting their error, FanDuel paid Landon the owed amount.
3. Fred Craggs, a fertilizer salesman that didn't even know he won
Fred Craggs, a fertilizer salesman, made an eight-horse parlay bet in 2008 to celebrate his 60th birthday. The man's odds of winning his 50 pence wager were 2 million to 1, so he didn't pay much attention to the results. Still, when he went to the shop to place another bet, Craggs found out he had won £1.4 million. Although the punter only cashed in £1 million because the bookmakers had capped winnings, the sum remains in sports betting history making him a legend.
4. Sir Ride a Lot put all his money in the game. Six times.
Like many other punters, an Eastern European man travelled to Las Vegas in 2017 to bet on the World Series games between the L.A. Dodgers and Houston Astros. His story is crazier and different from the average because he continued to bet his winnings, game after game, up until Game 6.
The bettor, known as Sir Ride a Lot, made $6 million in profits from the first 5 games and placed them on the Dodgers in Game 6 (-128 Moneyline). He won again, turning his profit into $14 million. Although hesitant, the man didn't bet on Game 7 and cashed in his winnings.
5. Paul Hornung – how $500 in bets almost cost this MVP his career
Heisman Trophy winner and 1961 MVP Paul Hornung was one of the celebrity NFL players appreciated and loved by professionals and audience members everywhere. Still, his fame didn't stop him from getting banned from the whole 1963 season for placing bets on NFL and NCAA games.
According to commissioner Pete Rozelle, Hornung bet $500 in the 1959-1961 season, an activity that the league considered unpardonable. Still, in 1964, the player got reinstated and eventually made the Pro Football Hall of Fame.
6. Charlie Samuels – the Mets' inside man
Clubhouse manager Charlie Samuels has long been one of the important Mets figures. In this context, news that he was betting on baseball games while performing his duties, organizing a gambling ring, and providing insider tips about the team's games took the sports world by surprise. In addition, the professional was also accused of using the club's finances to pay for his debts and stealing memorabilia to sell to collectors.
When the investigation took place in 2010-2011, authorities discovered that, while the prominent figure had an annual salary of $80,000, his income was 8 times higher, thus supporting the premise that he was involved in unethical activity.
Later in the investigation, recordings of Samuels showcased that he was making illegal bets and that his partners were discussing how crucial his inside information was for each mission's success.
7. Mandy Clarke – the secretary that won £50,000 thanks to a joke
A lifelong Leicester City fan, Mandy Clarke, won £50,000 after her boss jokingly gave her a £10 bet ticket on her team to win the title. With few chances to perform well in the championship, the Foxes had a +500,000 longshot to come out on top. This meant little compared to more potent teams, like Manchester City, who were considered favourites.
Still, the secretary did not lose faith and kept the ticket, bringing her £50,000, the equivalent of $72,480.
8. The story of a horse named Yellow Sam
One of history's most significant betting coups revolves around Yellow Sam, a slow but steady horse bought by Barney Curley in the 1970s. Extremely well strategized and executed, the stunt involved preparing the horse for a seemingly obscure event, the National Hunt race at Bellweston, mainly featuring amateur jockeys.
To start with a significant handicap, the owner ensured that the previous races in which Yellow Sam took part were in unfavourable conditions, thus reducing the horse's odds. This way, on race day, the horse's starting point was 20-1.
Barney Curley knew that large bets placed on Yellow Sam would make bookmakers tweak the odds, so he made sure that the two telephone lines that served the tracks and put betting shops in contact with the bookies were busy.
Since his friends strategically placed bets on Yellow Sam from locations all over America, Curley managed to win $427,000, the equivalent of millions today.
Create amazing sports betting stories with the best sportsbook offering
People have used sports betting in many ways to make money, try to beat the systems, and show their trust and appreciation for loved ones, like McIlroy's dad, their favourite player or sport. The sports betting industry generates as many exciting stories as the sports themselves, and at the end of the day it all comes down to the entertainment provided by both industries.
As a sportsbook, your clientele will include all types of customers, from the average Joe who gets lucky once and "breaks the bank", to high-profile individuals that know the ropes. What they all have in common is their love for sports and adrenaline. You can engage and entertain your customers with accurate odds, exciting statistics and live betting opportunities.
Contact us today, and let's find the best solutions for you to engage your customers.