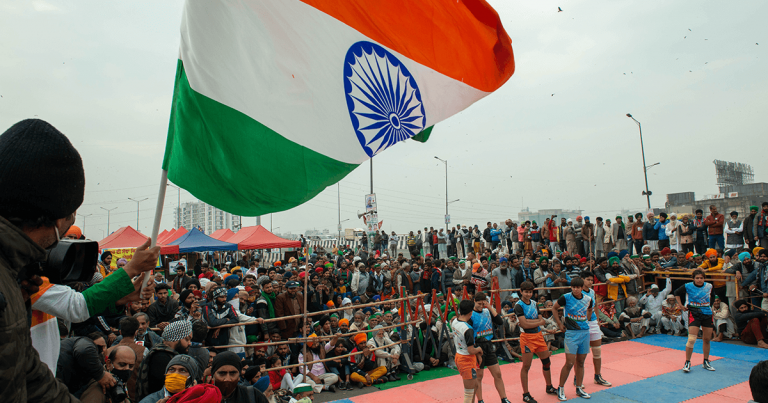 We're constantly looking for interesting and popular sports to include in our OddsMatrix sports data solution. Today, we present the newest addition to our portfolio: Kabaddi.
Kabaddi is a popular contact team sport practiced in the Indian subcontinent and other surrounding Asian countries. The game was popularized as a competitive sport in the 20th century, becoming the national sport of Bangladesh. Kabaddi is also currently the state game of many Indian states.
A game so prevalent and important for the Asian countries cannot be overlooked, so we could not miss the chance to add this fascinating Kabaddi sport to our plentiful collection. We also took our time to talk about its rich history, rules, gameplay, and some other exciting bits.
An ancient relic reforged by today's standards
Kabaddi is quite an old game. Theories from various sources state that it originated from the Vedic period of ancient India. The Mahabharata contains passages of events that are said to parallel the sport's gameplay. There are also accounts of Gautama Buddha having played the game recreationally.
Obviously, the modern version of Kabaddi is quite different from the original because it is a synthesis of all the versions of the game played across the Indian continent. And don't get fooled by its seeming simplicity. The game packs quite a lot of in-depth rules.
In an effort to keep the sport fresh and exciting for the audience, plenty of new score point rules were added to the game.
Kabaddi's increase in popularity
Kabaddi sport's popularity has experienced exponential growth in the public interest, increasing by 14% year-over-year since 2015 and becoming India's fastest-growing sport. The interest in Kabaddi leagues also experienced a surge, growing by 33% and becoming the second most-watched sport after the Indian Premier League (cricket).
The surge of popularity not only shaped the way consumers engage, experience, and enjoy the sport, but also opened the door for new business opportunities. Kabaddi is a very strategic game with complex rules and dynamism, so it would be expected to attract numerous fanbases across the globe.
Since the Kabaddi fever isn't limited to the sport's home country and spread across multiple other nations, we wanted to capitalize on that, so we decided to integrate the game in our XML odds feed.
Currently, our OddsMatrix sports API supports live odds for the Major League Kabaddi 2021 and the Asia Kabaddi League 2021.
Market-wise, we are currently supporting eight types of bets, including Asian Handicap, Double Chance, Home Away, Home Draw Away, Matchbet and Totals, Odd/Even, Over/Under, Team Score Over/Under. These are spread across four event parts: Whole Match, Ordinary Time, 1st half, and 2nd half.
General gameplay
What exactly is Kabaddi? At first, the sport might seem like a grown-up version of tag, but there is much more to it than that! Here's a video showcasing some of the tactics and methods used by the professional Kabaddi teams:
The sport consists of two teams of seven players facing each other in an arena. The purpose of the game is to score points. Every team chooses a player to go on the offence, called "raider". That designated player needs to run into the opposing team's side, touch as many defenders as possible, and return to his side without being tackled by them.
And that's not it! The attacker must repeatedly chant "Kabaddi" to confirm they are attacking and cannot stop chanting until he crosses back to his team's side. If he stops yelling or takes a breath on the opponent's side of the field, he is obligated to return to his side, scoring no points, and the defending team gets one point.
If a player gets touched or tackled, they are taken out of the game. They can be brought back for each point scored by their team from a tackle or tag.
All team members get the chance to raid, and they must go in a specific order. If a team member raids out of order, the opposing team will get one point.
The teams will alternate between defending and attacking for two halves of twenty minutes, with a five-minute break between them. After the first half of the game has passed, the teams switch sides. Obviously, the team that scores the most points at the end wins.
We recognized how important Kabaddi is for the people of India and Asia, and we made sure to integrate all of its rules and quirks into our sports data feeds, providing both pre-match and live odds to help betting operators create a pleasant betting environment for the fans.