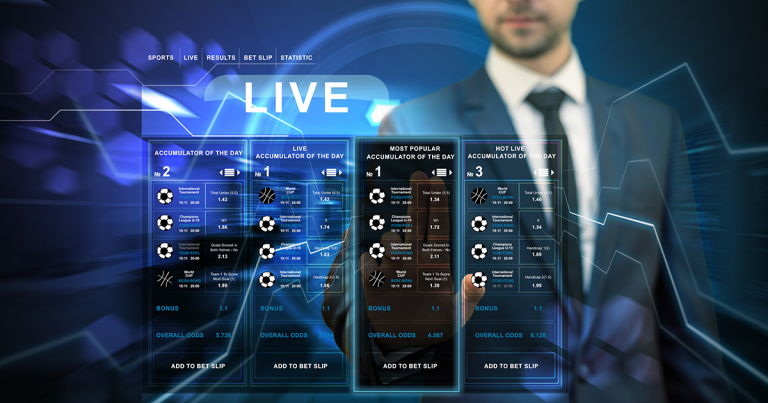 With the betting industry constantly developing each year, more and more sports betting companies are deploying solid strategies to attract gamblers. These strategies create a dynamic, highly competitive landscape that fosters innovation and demands excellent user experience, and a commitment to remarkable services.
If you are looking to make yours one of the top online sports betting brands, then you know that this is not an easy task. You have to know what the existing industry players are doing and what the market beholds. Once you assess this information, you can decide what range of sports you offer, the variety of betting markets, and the odds.
At OddsMatrix, we know the industry well. As ​​the provider of choice for over 50 leading sportsbooks and sportsbook providers, we offer accurate sports data and betting solutions, which enable clients to drive profitability and growth.
This article will walk you through the key aspects that make sports betting companies stand out in the eyes of customers. You will also get a clear understanding of the state of the betting industry, what are its opportunities, and the top players.
What do top sports betting companies have in common?
A Diversified Sports Betting Offer
Ok, this might look like stating the obvious, but when analyzing the top-performing sports betting companies, it is essential to start with their offering. The best online sports betting brands offer access to many popular sports, like basketball, football, and soccer, attracting worldwide bettors. What sets them apart is that along the most known sports odds, top players also offer betting opportunities for exotic sports like Gaelic Football, Futsal, or Kabaddi. The best sports betting companies consider it essential to also draw the interest of those passionate about sports that may be less popular, but which have huge betting potential. A wide portfolio of sports enables companies to attract a more diversified pool of customers, increase their income streams, and differentiate themselves from competitors.
Apart from traditional sports, the largest sports betting companies, offer betting odds for esports. As the pandemic has put events on hold, many punters moved their focus toward betting on esports, an industry that has grown significantly and which looks like it's here to stay.
After lockdown, EveryMatrix assessed the average bet per esport (Euro 17.2) close to the one on traditional sports (Euro 18.9), making it a relevant income stream. Moreover, according to The State of Esports Betting report, in April 2020, EveryMatrix clients experienced a 100% turnover increase, with an overall raise close to factor 40.
Efortuna, for example, offers punters access to 13 traditional sports, from football, and basketball, to box, futsal, and rugby, and a generous selection of esports tournaments. This approach makes the company a popular choice among international bettors.
The Variety of Betting Markets Available
The top betting markets offered by betting sites everywhere include Spread, Player Props, Game Props, Asian Handicap, and Totals. Apart from these, each sport has its own particular markets.
Football fans like to put their money on Total Goals Under/Over, Home – Draw – Away,
Both Teams to Score, Yellow Cards Over/Under, while baseball enthusiasts focus on Home – Away, Winning Margin, Rounds Over / Under, and Correct Score. In baseball, Over / Under and Home Away are among the top markets that bettors look for when browsing their options.
The aforementioned EveryMatrix report shows that FIFA bettors prefer markets like Over / Under and Home Draw Away for esports. At the same time, NBA2k fans place money on Asian Handicap and Over / Under. Those who bet on CS:GO and LOL choose the Home Away market, preferred by almost 80% of punters.
Covering the above markets is a must, so most platforms worldwide do that, but successful sports betting companies go that extra mile and focus on other markets, as well. This enables them to create stronger brands that punters appreciate and remember.
Izibet, the most popular Maltese betting company, uses the OddsMatrix Sportsbook integration to provide thousands of live and pre-match markets, including esports and virtual sports, at the best available odds.
The Best Online Sports Betting Brands are User Friendly
Top players know their customers. They know how their users talk, what are their betting preferences, and their betting behavior. For this, they tailor their platforms accordingly and make it easy for the user to navigate through them.
A vital aspect is to make the user journey flow effortlessly, so each move should be intuitive. For this, information needs to be organized well, and key facts and figures should be emphasized.
From the desire to offer punters in-depth knowledge, a trap many sports betting companies fall into is adding a high number of stats and odds. This complicates user experience, as it makes platforms more crowded with data that is hard to analyze and less friendly. Top sports betting companies curate attentively the information they share with end-users, to ensure it is relevant, easy to understand, and visible.
The Live Betting Section
Live betting adds excitement and engagement to the experience of enjoying a game. In this context, the best betting companies all offer access to in-play betting sections that are fast and very simple to navigate. The largest sports betting companies ensure their users can quickly scroll through various markets to rapidly find the ones they prefer.
For example, our clients at DOXXbet, known for their solid experience and reliability, place much importance on live betting. The company has an entire section dedicated to live sports and they use OddsMatrix Sports Data Feeds to offer bettors access to a generous selection of live events.
The Largest Sports Betting Companies Offer Generous Loyalty Programs
The best online sports betting brands know that loyalty is not a given, so they constantly incentivize their users, offering them benefits and bonuses. These are excellent ways to keep punters betting and offer them a pick-me-up when cold streaks occur.
The welcome bonus is probably most prevalent and all sportsbooks, big and small, use it to incentivize bettors to try the platform's services and get a sense of the experience (i.e. a whooping 100% welcome bonus, of up to $150!). This enables the company to generate signups and brand awareness among new users.
Competitions and promotions such as boosted odds, also work wonders as loyalty programs by offering ongoing value to the customer. Lots of international betting companies have contests for their punters, with pool prizes that reach tens of thousands of dollars.
Big prize contests are sure to make betting even more exciting for customers, but there are numerous other ways in which to enhance your customers' betting experience.
Betting on the go: Mobile-Friendly Interfaces
Nowadays, bettors want to have access to their favorite betting websites at any time, no matter where they are located, only by using their smartphones. This enables them to place bets easily and quickly, without requiring them to make a trip to an agency or open their computers. Like in many industries, convenience plays a crucial role.
The trend is fostered by the domination of smartphones and Internet-connected devices. Reports showcase that the online segment will retain its lead over the coming years. We, thus, expect that mobile-friendly online betting platforms will become the norm.
This is why companies invest in their mobile interfaces, to make them attractive, ensure essential information is visible and that all buttons and links are functional. Apart from betting, punters use websites on their mobile terminals to withdraw or deposit money and check live scores and odds.
The world's largest sports betting companies know that, so they direct significant efforts toward making their websites mobile-friendly. Optibet is just one of the players that are offering via OddsMarix Esports services an excellent digital experience for all terminals, from tablets to smartphones.
The Best Sports Betting Platforms Double as Knowledge Sites
There is always a learning curve in every industry or field of activity, and betting makes no exception. Going from watching sports or esports to betting on them might require some training, and the largest sports betting companies are willing to help with that. This approach brings them closer to their customers and opens a line of communication that is transparent while educating the bettors on best practices. BetBrain, enables its users to check and compare odds from 165 worldwide bookmakers and betting exchanges, offering punters the best possible information available.
Betting Lines Release Timeframes
Sportsbooks release betting lines differently. Some choose to do it earlier and, in this case, the odds reflect the oddsmaker's prediction, as it has yet to be influenced by the money coming in. Others do it later because they find it easier to take into account last-minute team changes or other developments that may affect the result.
The best sports betting companies might choose either approach, depending on their audience's preferences. They consider all the PROs and CONs and perform thorough research and social listening.
The Best Sports Betting Companies Offer the Most Competitive Odds
If you study the top online sports betting brands, you will surely notice that their odds are in relatively close range. Those that stick out, can be regarded with a question mark because they may just be too good to be true.
Safe and reliable data feeds and odds play an important role for both bettors and sports betting operators. At OddsMatrix we get odds from multiple sources, while the in-house trading team makes sure that all information is checked and trustworthy on a daily basis.
Sports Betting Industry Trends and Stats: Is There Room for New Players?
If you've read this far, one thing is clear: there are several market players that are deploying well-thought strategies and investing resources in keeping punters engaged and happy. In this context, you might ask yourself whether there is room to grow in the industry, and the answer is a clear "yes". The reason is that online betting is becoming more and more popular across the world and incomes are flowing accordingly.
According to the Sports Betting Market Share report issued by Technavio, the sports betting industry is expected to grow to $106.25 billion between 2020 and 2025. This makes it fascinating for worldwide companies that want to penetrate the market or increase their presence.
While the highest growth rate (39%) is attributed to the APAC region, with China and Australia being the major countries fostering the growth, Europe dominates the market.
We've shown you the tactics employed by the main online betting brands, but it's now time to get to the numbers and show you how big the top players are. To do so, we made a list of the world's biggest companies, with turnovers and key facts.
International Game Technology
Founded in 1990, International Game Technology (IGT) is a multinational company that produces slot machines, gambling, and sports betting technology. Headquartered in London, the business has 12,000 employees worldwide. In 2020, the organization closed the year with a $3.115 billion revenue, according to its stakeholders' reports.
Entain
In 2020, world-famous international sports betting and gambling company GVC Holdings rebranded into Entain. Now, Entain is licensed in over 18 countries worldwide, operating in locations across Europe, Oceania, Asia, and North and South America. The company with more than 2,800 workers and operates under several sports betting brands, such as Sportingbet, Bwin, Gamebookers, and Betbook.
The company is listed on the London Stock Exchange and is part of the FTSE 100 Index. In 2021, Entain closed the year with over €3,8 billion in revenue.
Bet365
Bet365 was founded in 2000, in England. Since then, the company has grown into one of the most critical players in the international market, generating £2.981 billion in revenue in 2019.
The group has offices in Manchester, Gibraltar, Malta, Bulgaria, and Australia and employs over 4,000 people worldwide.
888 Holdings
888 Holdings, owner and operator of 888sport, among other brands, was founded in 1997 in Antigua. The company, listed on the London Stock Exchange and a part of the FTSE 250 Index, reported a revenue of $980.1 million in 2021.
The company's core markets include Italy, the UK, and Spain, but the brands are growing significantly in countries like Canada, Romania, and Ireland.
Flutter Entertainment
Flutter Entertainment is an Irish company that recently bought The Stars Group and that operates brands like BetEasy, Betfair, Sky Bet, and Sportsbet.com.au.
A constituent of the FTSE 100 Index, the organization listed on the London Stock Exchange closed in 2021 with a revenue of over £6 billion.
Become one of the top online sports betting brands, with OddsMatrix
At OddsMatrix, we not only work with the best, but we are also the best. We know the industry for over 20 years. During this time, we proved a constant interest in always developing and offering market-relevant and up-to-date solutions.
Our products and services are designed to help betting brands grow, with accurate odds, results, fixtures, and statistics.
If you want to become one of the leading sports betting brands in the world or in your region, follow the existing leaders, take a queue from them and use our solutions to ensure you drive bettors' engagement, improve product performance and enhance betting solutions. This is the easiest, safest way to achieve success.
Contact us and let's see what we can do to help you become one of the largest betting companies out there.