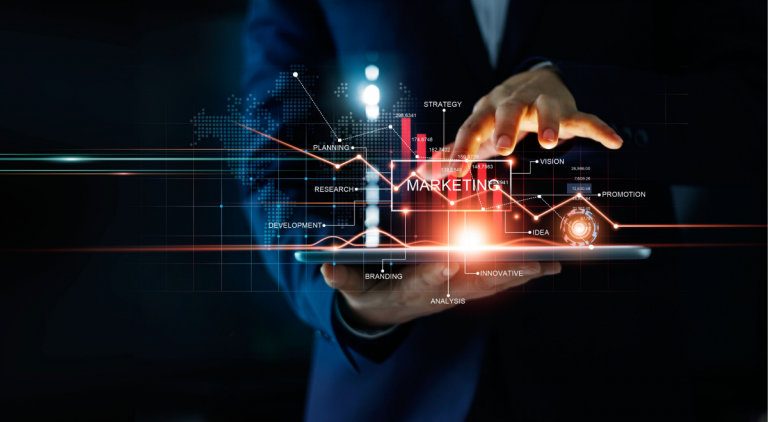 By enabling fans to actively participate in the sporting events they love through wagering, the industry of sports betting has always been a competitive sector. Today, with the industry predicted to grow from $9 billion in 2020 to $37 billion by 2025, it is clear that to stay competitive in this world, sports betting operators need to scale how they market their businesses.  
Creating and deploying a successful sports betting marketing strategy is not a simple endeavour within a heavily regulated industry like the one in the United States, and not only. Even so, with the right planning and by applying the right tactics, you can boost your online presence and increase your company's brand awareness.
A well-defined sports betting marketing strategy also includes partnering up with businesses that can help you deliver more value to your customers. From trustworthy odds, the most accurate and up-to-date market feed, to sports content delivered through eye-catching widgets, OddsMatrix is the provider of choice for leading sportsbooks all over the world.
In this article, we will walk you through the main pillars of a strong sports betting marketing plan and give you insights on how you can leverage each strategy and grow your business into a world-renowned name. 
Marketing Localization: The First Step For a Targeted Marketing Strategy
Marketing localization is the first step in your marketing strategy, especially if you operate in a heterogeneous market like the United States. Since every state here has specific regulations, it is crucial to differentiate your state-level marketing tactics and activations to comply with each area's legislation. 
Each market, be it a state or a whole region, also comes with its share of challenges, sports betting preferences, industry leaders, and influencers. While, generally speaking, the pillars of a solid marketing strategy are the same, on a granular level that focuses on a specific region or location, the sports preferences of the audience should be taken into account.
Another essential thing to consider is the region's sports betting history and whether the practice is frowned upon or if illegal practices are still available. If so, you might find that there are high and diverse audiences you may reach and that your main challenge would be to help your audience understand the benefits of choosing a regulated, compliant sportsbook. 
By analyzing and understanding each area's context and bettor behaviour, you can leverage custom marketing strategies and use the appropriate tactics and resources to drive conversions, attract customers and increase brand loyalty. 
For example, if you are the owner of a physical location, you could leverage your free Google Business Profile and turn people who search for your services on Google into walk-in customers. In addition, for omnichannel, localized, and fully tailored sports and esports content choose OddsMatrix and provide the most appealing content for your punters regardless of where they interact with your business.
Content Marketing: Create Content for Your Business, from Blogs to Podcasts and Fun Sports Data Widgets
Content marketing is an excellent tactic that enables you to attract new bettors and drive more income from your existing client pool by keeping them engaged. 
When it comes to sports betting, content marketing may refer to conventional tactics, like written and video information capsules, in the form of blogs, podcasts, and interviews, but also to specific techniques. Brands that want to master content make use of OddsMatrix's sports data widgets. They are easy to embed, customizable, and offer responsive data visualization and stats for sports and esports. Moreover, the Premium Betting Content feature enables sportsbooks to add exclusive content, allowing bookmakers to expand their offering of live semi-pro matches and tournaments.
According to a YouGov and SBC Americas survey published back in 2021, 35% of men and 34% of women bettors placed expert content, such as journalistic materials, videos, and advice, among the essential factors in deciding what sports betting apps or websites to access. In response, some of the industry's key players quickly understood the value of good content marketing and developed their own broadcasting channels. FanDuel, for example, has FanDuel TV, an American sports-oriented digital cable and satellite television network available in the United States of America. In contrast, DraftKings has VSiN, the American sports betting radio network and streaming television channel. 
Moreover, although they have their own media, the two market leaders also secured partnerships with several top sports betting content creators and chose to sponsor sports betting news channels worldwide. 
To be successful, content marketing needs consistency. A drop in the ocean will not get you results, so if you create a content marketing strategy, ensure you commit to its deployment, assess it constantly, and update it according to results and your audience's feedback. 
You should also consider the best types of content marketing for your objectives and audience. Usually, delivering outstanding results involves bringing together blog posts and news articles, podcast appearances, and over-the-top media. 
Blog posts and news articles help you spread your brand's message
Blogs play an important part in content marketing strategies, and things are not different for the sports betting vertical. Company-owned platforms with relevant, appealing pieces of information help generate traffic to sports betting websites and contribute to search engine optimization strategies. 
Collaborations with bloggers and news portals are also a great way to enhance your marketing strategies, attract users from complementary platforms, and expand your reach in different geographical areas and new audience segments. 
Podcasting gives your brand the voice to speak to your audience
Podcasts are a great way to provide entertaining and engaging sports content for your audience. The topics you can address in your podcasts are endless, from sports event commentary to betting strategies. Also, the industry's top players are already using the power of podcasts to reach sports betting fans and generate trials for their betting platforms. While some choose to become sponsors of an already established podcast, adding their brands to the mix, others create their projects from scratch.
A great example is SuperBook Sports, which, in 2021, partnered with Green Roll Media to create the OddsMaker Podcast, an all-access pass into the lives of Jay Kornegay & John Murray, Las Vegas career oddsmakers. The two share sports betting stories in their shows and analyze NFL games and betting options. 
Over-the-top media to reach your youngest audience segment
Live sports and sports betting go hand in hand. If Generation X and Boomers enjoy their favourite sporting events on traditional media, like television, Millennials and Gen Z-ers might need more diverse and flexible platforms. This explains the emergence of over-the-top media, such as live streaming. These enable sportsbooks to reach younger audiences on the same devices where they can place their bets, contributing to a more seamless experience and more conversions.
Creating over-the-top media is challenging, as it requires technical capabilities and broadcasting rights for sporting events. The costs, monetary and human resources, associated with OTT media are considerable, but businesses that decide to invest have medium-long-term ROI in mind. With over six million homes in the US making the switch to streaming in  2020, OTT is a channel worth exploring. 
Programmatic Advertising: The Next Level For a Laser-Focused Marketing Strategy
As opposed to traditional (linear) TV advertising, programmatic advertising is done…programmatically on OTT platforms. In simpler words, your ads will be delivered through software and priced by Cost per Thousand (CPM). This enables you to target specific audiences at a fraction of the cost of linear TV ads. For example, your OTT programmatic ads showcasing your sports betting offer will only be displayed to those viewers watching the World Cup. 
SEO: Target Searches Performed by Sport Bettors
Implementing search engine optimization strategies for your sports betting website comes with its fair share of challenges. Firstly, the landscape is extremely competitive. Websites all over the world publish blog posts, guides and tips, and tricks on the same topics to generate organic traffic and attract bettors. For your strategy to stand out, it requires a good client understanding. This means you need to know how your audience talks, their main points, and where they are looking for solutions: do they prefer written or visual content? 
Influencers: Boost Your Brand Awareness
Influencer marketing is an excellent tactic that enables you to build awareness and trust for your sports betting business. By working with industry figures and celebrities, you can leverage their appeal to reach new audience segments, personalize your brand's messages and increase your pool of active users. 
As the survey mentioned above conducted by YouGov and SBC Americas in 2021 points out, 35% of bettors agree that celebrity endorsements are a decisive factor when choosing a betting platform.  No wonder,  some of the world's most reputable sports betting players spend millions of dollars on influencers. 
In 2021, WynnBET announced its partnership with 15-time Professional Basketball All-Star, media personality, and entrepreneur Shaquille O'Neal. The celebrity influencer became the brand's ambassador and consultant, associating his image with the sports betting brand's products and services. Since then, Shaquille O'Neal even starred in a televised ad, along with Ben Affleck. 
In-venue Marketing: A Traditional Marketing Strategy That Works
In-venue marketing complements digital tactics because it enables sportsbooks to approach potential bettors where they feel comfortable and engaged, like stadiums or sporting arenas. By taking advantage of the adrenaline rush and enthusiasm sports viewers have while watching a live game, brands attract bettors and direct them toward placing live bets on their mobile devices. With a sports data provider like OddsMatrix, you can deliver online betting across all media types, including mobile applications, and enhance your customers'  live game experience.
Sporting arenas aren't the only places for in-venue marketing. Other excellent locations include sports bars, where supporters gather to cheer on their favourite teams and place wagers. As for common in-venue marketing, techniques include placing booths in dedicated areas and offering gift cards and promotional codes. Using ad space in these venues is also an excellent way of building memorability for your sports betting brand. 
Affiliate Marketing: The Power of Networking in Sports Betting 
Affiliate marketing programs are so prevalent in online sports betting marketing that they have become a must for sportsbooks. The way they work is effortless: third parties promote your website and campaigns, generating customer referrals, leads, and traffic for your business. In return, they get paid a percentage or a flat fee. 
The affiliate system allows you to pay only when a conversion has been made, allowing you to apply a trial-and-error strategy. You can choose to work with several affiliates simultaneously to identify who delivers the best results. Moreover, you can develop partnerships with affiliates from different regions and countries, and target localized audiences. 
Social Media Marketing and Sports Betting
Social media marketing is a crucial pillar of your strategy because it enables you to reach a wider audience, engage with users casually, and amplify your messages, campaigns, and offers. 
By allocating time and resources to your Twitter, Facebook, Instagram, or TikTok accounts, you can educate your existing and potential users about the industry, helping them explore less popular markets and sports. While social media marketing is great for sports betting, placing ads on these channels is often restricted. 
Apart from a content channel, social media has become, in recent years, a relevant customer service and support channel. For example, the @FanDuel_Support account on Twitter keeps users in the loop regarding the potential website and venue maintenance and changes in game schedules and betting opportunities. Fans who experience technical issues are also invited to send a direct message to the page for help. 
Make Your Online Sports Betting Marketing Strategy Thrive with OddsMatrix
There you have it – the best strategies you can develop to market your sports betting business. However, keep in mind that creating a solid sports betting marketing strategy is only the first step. If your strategies are well implemented, they will attract users and these people will assess your services.  Successfully deploying these strategies depends on how much your deliverables satisfy user expectations and experience. 
By delivering nothing less than what you've promised with your strategy, you can rest assured that your customers' betting experience will be a good one. With OddsMatrix you can provide the most accurate sports betting content that is tested and loved by hundreds of bettors daily.
Contact us to discuss how your sports betting marketing plan can shine with OddsMatrix.