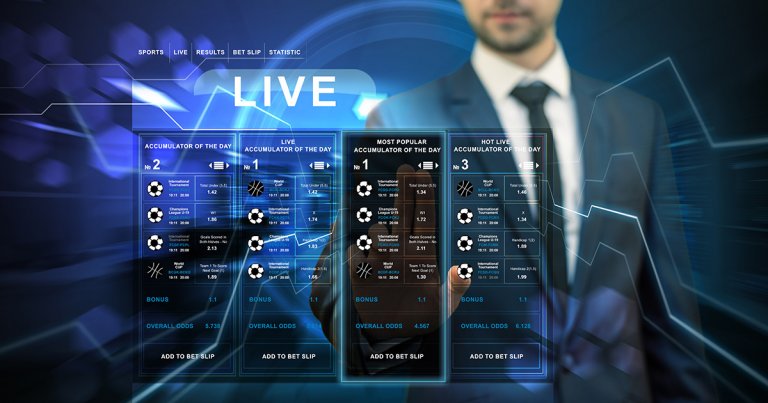 At the height of the digital revolution, the global sports betting market keeps getting vaster and more popular. In fact, it's one of the fastest-growing sectors in the world.
In this article, we'll lay out the current and future state of the worldwide sports betting industry through sports betting statistics and facts.
The online sports betting industry is expected to grow from $9.5 billion in 2020 to $37 billion by 2025. Behind it all is an increase in wealth and expansion in digital connectivity.
Our industry is undergoing dynamic changes, expanding in established markets and forging its way into new ones. Sports data providers such as OddsMatrix want to capture this tremendous potential for both operators and bettors by exploring sports betting statistics and what this data says about projections for the industry's future growth.
As a leading sportsbook solution across multiple markets worldwide, with a product that is used by over 50 leading sportsbooks and sportsbook providers for trusted sports data, we will also be sharing our own exclusive statistics. Here's what our stats are telling us about the future of sports betting.
The bigger picture: what you need to know about the sports betting industry
Sports betting is quickly reaching the mainstream tipping point, with every relevant sportscast integrating statistics and odds into its commentary. And the interest in all kinds of online sports betting continues to grow.
Sports betting currently accounts for between 30% and 40% of the worldwide gambling market. That's more than any other section, including lotteries, casinos, poker, and other forms of gaming. The variation comes from inconsistencies in regulations in different countries.
International sports betting is estimated to have a market capitalization of $250 billion. Those who are turning it into a stable source of income will be interested in this context: licensed online sportsbooks account for upwards of $39.7 billion of this revenue.
The status quo of the sports betting industry
There are a few trends emerging in the industry status quo that will define the future of sports betting. Let's see how these global sports betting statistics are framed into them.
2020 was poised to be a big year for sports betting. Some of that momentum was lost due to the shutdown of live sports, but the industry is still surging ahead and holding out hope.
The post-pandemic sports betting scenery highlights some changes that the pandemic has brought to the industry. The most important of these seems to be the pivot to esports and the rise of sports simulations (eg. FIFA and NBA2K).
Esports betting entered the scene before the pandemic but was seriously boosted by it. From a side-project, it turned into a centerpiece for our OddsMatrix sportsbook platform, getting to 50,000 monthly live events across 22 disciplines.
For the complete outlook on the current and future state of esports betting, look no further than our OddsMatrix Esport Betting Report. It includes critical data on how esport have risen along with traditional sports, betting coverage and impact on betting behaviour during the sports drought, as well as other key data for long term profitability in esports betting.
Alongside the proliferation of esports betting, we've also seen an obvious shift of focus in online sports betting. For players, it's materialized into new attractive features that really bring up the entertaining part of sports betting. For operators, it's grown into having the flexibility to differentiate their brand.
This new shift can be summed up into one aspect that holds relevance for sportsbook operators: supporting player engagement while ensuring operator flexibility. In order to achieve that, we developed the BetBuilder feature. . Its algorithms allow sports betting operators to offer the same game multiples across a variety of sports, both pre-game and in-play and support cashout as standard.
Through its sports data APIs, OddsMatrix allows operators to rely on features that make a sportsbook more attractive to players thanks to extra flexibility, at no extra cost for the operator—such as Auto Cash-out or Partial Cash-out—go for classics like Odds Boost and Stake Back, that rely on incentivization, rewarding the player for placing bigger multiple bets, or even the DIY option, which lets them create their own tournaments, events or markets.
All these features are OddsMatrix's way of investing in ensuring that operators have the flexibility to differentiate their brand.
The bright future of sports betting
So, what's next? Goldman Sachs projects that online sports betting could grow by 40% annually over the next decade. And according to a report issued by Grand View Research in October 2021, the global sports betting market could have a value of $140.26 billion by 2028, with a global sports betting market's compound annual growth rate (CAGR) of 10%.
It's truly a massive projected growth that market research attributes to two aspects:
the proliferation of the internet around the world
sportsbooks' subsequent investment in their digital platforms, as a response to the demand for online sports betting.
As a result, it's never been easier for people around the globe to connect to the internet, and subsequently, start betting via sportsbooks.
The overall increase in online betting greatly benefited our OddsMatrix Data Services. We recently reached a great milestone in Q4 2021, surpassing a monthly average of over EUR 100 million total placed bets, almost double of Q4 2020.
Most popular sports people bet on
When it comes to sports betting, football (or soccer) is indeed king, both on the stadiums, as well as in the online and offline sports betting locations. Popular leagues include the Portuguese Premier League, the English Premier League, and the Spanish La Liga.
In Italy, football took in €10.4 billion in 2019 and €9.7 billion in 2020. In June 2021, it was reported that 3 million fans would place bets on the delayed 2020 UEFA European Championships—double the amount from the World Cup in 2018. In the months leading up to the event, 50% of the 1.5 million bets placed between January-May came from the U.K.
Portugal saw a 224.5% increase in sports betting revenue in Q2 2021 compared to the previous year. Football took in 77.48% of the country's sports betting volume during the quarter.
All these impressive stats make it easy to forget there are other sports around the world. However, operators with a keen eye for opportunities know not to lose sight of other sports with great betting potential. After all, our OddsMatrix data shows that 35% of the total placed bets come from sports and events not connected to football.
Let's take a look at some other sportsbook statistics for sports (and esports) we believe show the biggest betting potential in the months and years to come.
1. American Football
Americans love pro football, and not so coincidentally, they love that they can (legally) gamble on it now.
According to a data intelligence report, the market for legalized sports betting in the U.S. exploded in 2021, doubling in size as Americans wagered more than $52.7 billion throughout the year. That number is expected to continue to rise as NFL games continue to produce high viewership across the board.
The appeal of the NFL for European bettors keeps on growing, and the Super Bowl remains the biggest yearly betting event on the planet. A record 45.2 million Americans (18%) planned to wager on the 2021 National Football League season, according to research by the American Gaming Association. Fans from the Northeast (21%) were most interested in betting on the NFL last year, followed by the West (18%), Midwest (17%) and South (15%).
Fan engagement is in full bloom across the European continent as well, never more so than when NFL matches are held in London and Germany. Estimates include about 2.37 million NFL fans.
American Football is of great interest to operators due to the wide range of player prop and micro-markets that can be offered, in a stop-start sport that contains an abundance of betting pit stops for customers.
2. Basketball
Basketball is not just one of the most popular sports in the U.S., but it is also one of the most popular sports globally. Estimated to be the third most popular sport in the world with 2.2 billion fans, basketball doesn't begin and end with the NBA—though the league does show off some pretty impressive sports gambling data.
Physical sports betting stores in Nevada average $50 million in NBA wagers each month. An estimated $500 million in offshore wagers were placed on the NBA in 2019 and the average annual spend per capita on NBA betting is $111.49.
Besides the NBA, our own BetBuilder product includes multiple year-round competitions, and we have seen that Asian competitions that take place in Europe during the daytime are very popular. The Turkish Airlines EuroLeague competition, for example, is one of the biggest global indoor sporting competitions with average crowds of more than 8,000. In countries such as Greece, Turkey and Spain, basketball is behind only football in popularity.
3. FIFA & NBA2K
For our industry, the biggest challenge of the COVID-19 pandemic was the consequential halting of live sport. In response, sports simulations like FIFA and NBA2K achieved great numbers in sports betting. It's easy to see why, as these esports mimic regular sports but at a much faster pace.
Almost three years later, sports bettors continue to be drawn to betting on esports and they remain a great opportunity for operators. Esports betting grew 40 times over early last year and esports revenues are seven times higher than they were pre-pandemic, as bettors are served with round-the-clock, streamed coverage.
Although many expected the surge in esports betting popularity to be short-lived after the return of live sporting events, it has instead maintained a strong position within the online betting industry, and OddsMatrix managed to capitalize on its success. We currently offer betting data for 23 esports, and our portfolio will continue to expand in time.
Today, FIFA occupies a place in the top-five best-performing sports on our platform, NBA2K occupies the seventh spot on the OddsMatrix sports betting leaderboard, and sporting simulations within esports are consistently out-performing virtual sports in online betting.
We offer high-quality streaming for almost all esports events we carry markets for, so the user experience is different from regular sports like football or tennis when the availability of streams is more sporadic, or virtual sports where the human element is lacking.
Sports betting worldwide: market hotspots and how they differ
Success and online sports betting statistics go hand in hand. For sportsbook operators that want to expand their business and increase profits, accessing this type of data is as crucial as knowing the odds of who's going to win, stats that help drive victory, and numbers to help influence individual statistics.
At the beginning of 2022, market research points to the continued popularity of sports betting, particularly in the U.S., LatAm, and European sports betting markets. Each market has its own particularities, based on a specific sport, location, participants, odds ranges, a certain time of day, a particular market, and whether the preference is for pre-game or in-play betting.
Understanding these differences—and working with an experienced partner with the power of data-driven analytics—has become invaluable for operators, in tandem with markets becoming increasingly competitive.
1. U.S. sports betting statistics
In the post-PASPA world, sports betting is an increasingly popular phenomenon in the United States—one that more and more states are looking to capitalize on.
U.S. sports betting statistics show that, in just three years since the 2018 Supreme Court ruling, legal sports betting has quadrupled. Dozens of legislatures have opened the doors to sports betting in their states and more governors are signing sports-betting legislation each year.
According to a recent report, Americans have wagered more than $65 billion on sports and New Jersey has surpassed Nevada as the state with the most sports bets monthly. In the month of June, sports bets in Nevada represented just 15% of the $3.68 billion wagered in the U.S.
It's no wonder, with 46% of American adults having at least some interest in sports betting. That equates to 106 million people, which is significantly more than 7.3 million who are already daily fantasy bettors.
The U.S., especially, is seeing sports betting data rise in importance on a month-by-month basis. American operators, leagues, and media brands rely on automated feeds for their insights, with the industry now demanding accurate odds quickly.
OddsMatrix understands that catering to these demands as a provider that can offer flexibility and competitive advantages is the only way to both attract and retain a sizable player base, something that every emerging U.S. market will want to do.
And with a handful of states considering some form of sports betting, the odds are only going to increase over time. In fact, the forecast for revenue from sports betting in the U.S. for 2022 is $3.6 billion. By 2028, that number rises up to $10.1 billion. If betting becomes legalized in all 50 states, estimated revenues will exceed $19 billion a year.
Legal sports betting is now available in 30 states and Washington, D.C., with more states expected to join in this year. Bettors in Ohio are expected to be able to begin placing bets this year. With states such as Florida, Georgia, and North Carolina awaiting entry into the online gaming market, the online sports betting industry looks to be in the early innings.
2. European sports betting market statistics
The EU market is the largest and most competitive for online gambling. In 2018, it accounted for 49.2% of the global online gambling market and it is expected to continue and be accelerated by the pandemic.
The market generates much of its revenue (as measured by gross gaming revenue or GGR) in the UK, Italy, France, Spain, and Germany. Online GGR is expected to reach 41% of Europe's total gambling revenue by 2026, up from a 26% share in 2019.
In 2021, sports betting accounted for 45.9% of GGR and the regulated sports betting market in Europe is growing steadily. The most popular sports in Europe are football and tennis. Data also shows that the share of in-play betting has declined, and pre-match betting now accounts for 54% of sports betting GGR.
Another trend expected to continue is the increasing use of mobile devices (phones and tablets) for online gambling, with the share of bets from mobile devices this year set to account for the majority (50.5%) of Europe's online bets for the first time, and expected to reach 61.5% of all online bets by 2026.
3. LatAm sports betting statistics
The Latin American sports betting market is very similar to the European one, even though legislation is far from harmonized across the continent. However, they still present differences, mostly in terms of punters' behaviour, with higher rates for pre-live bets, a stronger presence in retail, and a reduced penetration rate of mobile betting.
Retail betting has a strong foothold in the LatAm market. It clearly brings clear benefits, such as the social component—betting shops have a very cosy set up, where punters come and sit for hours, watching the events together—and the marketing aspect since venues are usually located in high-traffic areas, where there's a lot of brand awareness to be gained.
On the other hand, online sports betting has proved to be an extraordinary safety net, especially in the last two years. At OddsMatrix, we see a lot of potential in uniting the two wherever possible and creating a seamless brand experience from online to offline. In fact, we've been developing a product that caters to retail operators, which will be a massive addition to our portfolio and will enable us to offer omnichannel solutions for Latin America.
Growth is expected to rise 20% year-on-year, driven by young, mobile and tech-savvy, highly engaged sports and esports fans with revenue predicted to exceed $7 billion by the end of 2021. And this is just the beginning, with only a handful of countries already online, making it fertile ground for a healthy, robust regulated betting and gaming market.
Expand your sports booking business and increase profits using the right tools
Consumers are putting unprecedented levels of demands on operators to deliver a consistently high standard product—regardless of their country, device, chosen sport or time of day. Using the right tools, such as the OddsMatrix sportsbook solution, which combines modern front-end and sophisticated back-office, operators will have access to complete customizability, support, and monitoring, helping them gain the upper hand and come out on top of their competition.
Covering a huge chunk of the tournaments and leagues, OddsMatrix Bookmaker Feed is a great solution for sports and esports betting providers to build their business with the most reliable and accurate data.
In 2022, sportsbook operators are looking to make key moves that will rapidly expand their sports business and increase profits. OddsMatrix provides the necessary tools to make this happen:
The best odds within the latest automated sportsbook platform.
Extensive sports, esports and live and pre-live markets, coverage of local and major international events, plus a wide selection of in-play betting opportunities.
Complete control of odds and payouts across any sport, market, game, at any time.
The ability to adjust odds at any point to maintain optimum risk levels and offer players the best odds for local and international events.
Configurable localized content and payment methods are essential when targeting specific audiences and managing local payment options.
An advanced bonus system that simplifies operational tasks and allows operators to concentrate on enriching the player experience.
The OddsMatrix betting solution empowers clients to unleash bold ideas and deliver outstanding player experiences in the U.S., European, and LatAm markets, guaranteeing one of the most precise pre-match and live data services in the industry.
As a provider, our job at OddsMatrix is to make sure that operators can enjoy the same flexibility when using our software as they could if they owned it outright. This includes features that will set you apart from the competition, such as:
cross-checked data
fast settlement
data feed aggregation
data granularity
customisable feed content
multiple languages
24/7 monitoring
Numbers and statistics drive sports betting results. The more you know, the more likely you are to win. Get in touch and let's identify the choices and support that empower you to thrive and be highly profitable in your markets.