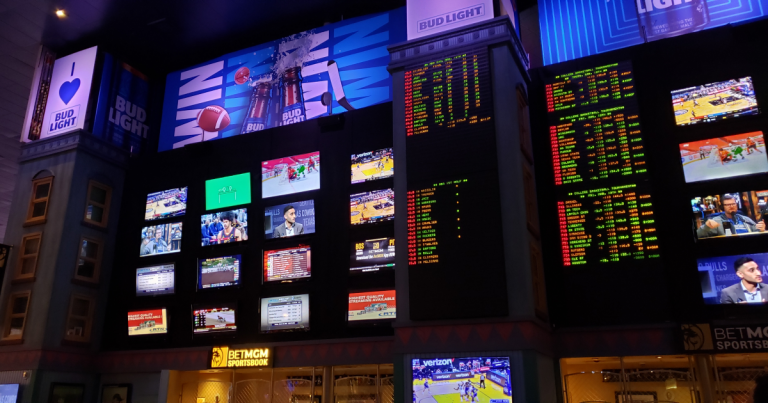 Have you ever wondered who the most successful sports bettors in the world are? Are they modern-day Great Gatsby's, extravagant millionaires, or maybe tech gurus and analytical minds? Would it surprise you if they were superstars and famous athletes like Floyd Mayweather or dazzling movie stars like Ashton Kutcher?
It's no secret that sports betting is a billion-dollar industry. The most successful sports bettors in the world are proof of the big money involved in the industry by betting amounts that could be a small country's GDP or winning big.
This article will give you a glimpse into the potential sports betting has when it comes to the top 1 percent of sports bettors, introduce them to you, and walk you through the traits that make them. With this knowledge and OddsMatrix betting data solutions, you will be fully equipped to thrive and be highly profitable in your sports betting business.
What makes a successful sports bettor? Common traits that make them different from your average Joe
They are disciplined
Successful sports bettors need self-control and discipline to stick to staking plans and only focus on the wagers that make sense from a financial perspective. These are critical attributes that differentiate the top sports bettors from the recreational bettors, who are significantly more spontaneous and emotion-driven.
They are strategic and tactical
The top sports bettors stand out because of their strategic and tactical mindsets. They place much importance on reviewing and analyzing historical data and comparing bookmaker odds and markets.
They often develop their systems and put together Excel sheets with formulas that automatically assess the variables that are important to them and on which they base their strategies. Furthermore, they are caught up with the latest sports betting statistics and developments.
Patience is crucial for these strategic professionals because it helps them focus on their long-term goals and follow through on their tactics.
They do their homework and research
Apart from gathering historical data, the most successful sports bettors analyze their bets to see what worked and didn't. When losses occur, they use insights to assess and enhance their strategies.
Research is also consistent for them, and it doesn't only apply to the teams playing a particular game. It is also about finding the best odds.
Line shopping is a crucial tactic for the best sports bettors. The tactic enables them to compare markets across different sites and choose the most favourable. This way, in case of a win, gamblers will earn more money and, thus, maximize their efforts.
They know how much they can afford to lose and don't mind losing
Professional sports bettors are excellent at money management. They know how much they can afford to bet on one game, so a potential loss doesn't affect their balance. An example is Texas business mogul Jim McIngvale "Mattress Mack," who lost $9.5 million on the Bengals to defeat the Los Angeles Rams in the Super Bowl this year and says "he'll be OK." With a reportedly $300 million net worth, he can afford to lose this money.
Losing is a part of the game, and the world's most successful bettors know this and don't get discouraged by the bets that don't pay off. Most importantly, however, they know precisely what amount would harm them if they were to lose and never cross that line.
They can cope with uncertainty
No matter how much research and strategy you put into it, betting remains uncertain. Bettors cope well with uncertainty and understand there is no sure win. This is why they don't take victories for granted or despair at defeat.
Moreover, their careers are about trial and error, as no strategy or tactic will work forever. Circumstances constantly change, and so does the betting style of each player.
They are self-confident
Since many variables are involved, top sports bettors must trust their strategies and reasoning to make decisions and take shots that others wouldn't even consider.
Self-confidence is a critical trait that keeps bettors going strong. Still, when it is taken too far and not complemented by the understanding that things don't always go your way, it might also lead to chasing winnings at all costs.
They have a well-developed perception of their own emotions
Strategy, research, and the ability to take risks will only get one so far. Another critical factor that makes top sports bettors different from your average "Joe" is their ability to understand and control their own emotions. A strategic sports bettor will never become blinded by winnings nor be knocked down by a loss, no matter how big, and will always know and be aware of their state of mind. Cathy Hulbert, a professional gambler who made around $5 million playing card games and slots, reported that she would lower her bets if she were agitated.
Our selection of the 13 Top sports bettors in the world
1. Parlay Patz
Ben Patz, known as Parlay Patz due to his successful parlay betting, was born in 1996 and started sports betting as soon as he reached legal age. An American University of Paris and Columbia's Business School graduate, Patz realized early in his career that teams didn't care about the points they scored but about winning the game, so choosing to bet moneyline was easy.
He developed a moneyline parlay strategy that helped him win over $1.1 million in just three weeks. His longest and the most successful bet is known to be a $7,000 13-game parlay that enables him to cash in $333,000 in the payout.
While he is a highly prolific sports bettor, Parlay Patz did not steer away from problems. For the past years, he has been under investigation by the FBI for over 300 online threats made to college and professional athletes that he considered responsible for his betting losses. The case is ongoing, as the courts have yet to decide what will happen to the young sports bettor.
2. Billy Walters
Billy Walters isn't only one of the biggest sports bettors in the world. He is also known for betting more money successfully than anyone else in the industry.
His father's betting history inspired the legendary figure. Attending his poker games and seeing him lose at times helped Billy build resilience and not get affected by losses.
He placed his first bets when he was 9, using the money earned from his newspaper route, and advanced to reach a net worth of $200 million.
Specialized in Las Vegas sportsbooks and casino strips, Billy Walters was one of the pioneers of the "head fake" movement. He placed bets on an early line opposite his preferred position to move the point spread and make it more advantageous. Then, he put his chance on his valid option at a significantly better value price.
According to rumours, Walters has always had people placing casino bets for him, which enables him to focus on the emotionless analysis behind the figures.
Even more, together with his team of mathematicians, he implemented Walter's computer modelling, a key element of his success.
While his betting career was legal, Walter also had legal issues. In 2017, he was sentenced to 5 years for insider trading charges. He was released in 2020 and pardoned by the Trump administration in 2021.
3. Tony Bloom
Tony Bloom is a British professional sports bettor known as "The Lizzard" due to his cold-blooded approach to betting; Tony competed in the world's most prestigious poker competitions as an industry veteran.
The Lizzard is said to have won as much as $1 million betting on a single football match.
Today, Bloom is the owner of the Brighton & Hove Albion soccer club in England and the key figure at StarLizard, UK's betting syndicate and consultancy firm.
4. Steve Fezzik
Steve Fezzik graduated from Northwestern University, where he studied actuarial science. After college, he pursued a career as an insurance statistician.
He started sports betting in the '90s, playing college football books in Las Vegas, where he decided to move in 2001 to focus full-time on the activity that would bring him millions of dollars.
Fezzik is "The best NFL sports betting tournament player in the world" and the only person to have ever won the Las Vegas Hilton Super Contest two times. Today, Steve Fezzik sells picks on SteveFezzik.com.
5. So Money / Sonny Banks
Sonny Banks is a Canadian sports bettor who goes by the nickname So Money. He is well known mainly because of his Twitter which gathers over 24,000 followers interested in his views and picks.
6. Bill Benter
Bill Benter is one of the first bettors to use and perfect "deep state" handicapping, a penetrating analysis that enabled him to make millions on Hong Kong horse racing.
The system starts from the premise that several variables impact a race's result. Benter and his team created an algorithm with twenty Horse Racing variables to calculate each horse's true odds. The term "true odds" refers to the market price being close to or equal to the winning price.
Benter's method used twenty variables initially but now has around 130. Due to its accuracy, the system is said to deliver a 24% profit on turnover, so industry voices say that Bill makes about $100 million annually, money he invests into Benter Foundation, which supports health, education, and the arts.
Bill Benter's expertise is so highly appreciated that he has been invited to lecture at some of the world's most prestigious universities across the United States, Europe, and Asia, including Harvard, Hong Kong University, and Southampton University.
7. Zeljko Ranogajec
Australia-born Zeljko Ranogajec is mainly known for his horse-betting activities. People say that Zeljko bets on every thoroughbred horse race in Australia.
The multi-billionaire uses computer technology to queue bets in the TAB system just seconds before the race starts. This way, he ensures that other bettors don't follow him and that bookies don't take advantage of the tumbling odds he generates.
His fortune has attracted the attention of the Australian Tax Office, which ended up taxing his betting income. Zeljko Ranogajec has a $600 million net worth.
8. Marco D'Angelo
Marco D'Angelo has been placing bets since the '80s. He moved to Las Vegas in 2008 and reached fame in 2010 when he made history by recording one of the longest documented streaks in baseball betting. The 25 games he won in the row generated an extremely high profit.
Marco is highly appreciated for his transparency and willingness to help other bettors and show them his tricks.
His betting style is based on a percentage system, as he always bets a small part of his budget to ensure losses don't affect him.
9. Gadoon "Spanky" Kyrollos
Gadoon "Spanky" Kyrollos is a New Jersey sports bettor who discovered his passion while working at Deutsche Bank, where he started placing arbitrage bets with a colleague. He left his job to co-found their own betting business. A computer science graduate, Gadoon created a program to calculate and automate bets. The company was closed after the founders were mistakenly accused of bookmaking.
Since he is known as a betting shark – a person that wins extremely often -he is banned from many casinos. This is why he has runners that place wagers and collect the winnings on his behalf.
Spanky continues to use calculations and formulas to ensure his bets are sound. His system automatically reviews and highlights everything from line movements to injuries and betting information to have the upper hand.
10. Teddy "Covers" Sevransky
Teddy "Covers" Sevransky has been betting since the 1990s. In 1998, he moved to Las Vegas to bet on sports full-time.
He believes in shopping lines but has updated his betting style to fit today's landscape. His strategy involves identifying what he calls "morphing teams," teams that play better or worse, faster or slower than their statistical profile indicates. He follows those teams and bets on or against them, over or under, until the audiences perceive their performances and they start to get assessed correctly.
Teddy Sevransky is now one of the key opinion leaders of the betting world and a constant collaborator for media outlets that need industry insights. He also offers a pick service.
Covers is said to have a net worth of $100 million.
11. Charles Barkley
Charles Barkley has been an NBA star for 16 years, playing for the Philadelphia 76ers, the Phoenix Suns, and the Houston Rockets. Although he used to be known as a bad gambler who often ended up in debt, the sports bettor now has a stable net worth of about $40 million.
The former football player is known for limiting his wagers, as he says that $200,000 is the most he can afford to lose without compromising other bets.
12. Haralabos "Bob" Voulgaris
Haralabos Voulgaris, who goes by Bob, is one of the top sports bettors in the NBA.
In the late '90s, when he was 25, he would bet $1 million / day on basketball games, taking advantage of the lack of attention bookmakers directed toward the halftime score. Back in the day, bookmakers would break the end score in half without considering the high number of goals in the fourth quarter. This strategy brought Bob millions of dollars.
When bookmakers understood what was happening, Haralabos switched to poker, where he took advantage of his capacity to read people.
13. Jimmy Snyder
Jimmy Snyder passed away in 1998, at 77 years old. He is still remembered as one of the biggest sports bettors in the world and one of the men that made history by bringing betting tips to live television.
For years, he had been the host of "The NFL Today," CBS' Sunday morning show, but lost that position due to racial comments.
Celebrity sports bettors
Even the richest celebrities in the world are attracted to sports betting. Some appreciate the thrill, while others are just in it for the money. Even if they win or they lose, they all make headlines.
1. Floyd Mayweather
Known for his career as a boxer, Floyd Mayweather also has other income streams that keep him entertained and engaged. The world-renown sportsman is a successful sports bettor that made headlines with his staggering wins, betting on everything from college basketball to the NBA, the NFL, and boxing.
In September and October 2014, he made $4.7 million by betting $800,000 on NFL games, while, in 2015, his 4-day winning streak helped him cash in over $827,000.
2. Michael Jordan
Michael Jordan enjoys betting and attributes it to his competitive nature. The no-strategy billionaire is said to have lost $5 million at a poker night in Las Vegas.
3. Ashton Kutcher
Ashton Kutcher is known for his wise, business-oriented mindset. The actor doesn't look for exciting experiences in betting but uses it to expand his fortune. Ashton bets mainly on college football and focuses on the games where he has all the data necessary to win. He reviews stats, game information, and line shopping. Said to be a runner for Billy Walters, the actor owned shares in the bookmaking company Unikrn now acquired by Etain.
4. 50 Cent
50 Cent is yet another celebrity who shares his betting endeavours with his fans. The rapper mentions the practice frequently in his songs and confesses he is passionate about putting his money into boxing and American football.
After placing a bet on the NFC Final that had the New York Giants face the San Francisco 49ers, 50 Cent made $500,000 that he gave to his grandmother.
5. Pete Rose
Pete Rose was among the best Major League Baseball (MLB) players. Still, he did not make the Hall of Fame because, in 1989, it was proved that he bet on baseball, including on Cincinnati Reds, for whom he was a play manager. Moreover, one decade after his career ended, Rose confirmed that he bet daily on football.
6. Charlie Sheen
Charlie Sheen's passion for betting didn't go unnoticed. As she filed for divorce, Denise Richards mentioned Charlie Sheen would bet around $200,000 per week.
Sheen decided to give up betting when he realized that it didn't do anything for him emotionally. The actor confessed that he put $1 million on Manny Pacquiao versus Oscar de la Hoya and, when he won, he didn't feel a thing.
7. Wayne Rooney
Wayne Rooney is one of Europe's best-known and appreciated football players. The sportsman also has a history with sports betting, a practice he took to reduce his boredom while staying at hotels before games.
The celebrity lost £700,000 in 5 months by placing bets on the phone from his room.
8. Brian "Birdman" Williams
Rapper and co-founder of Cash Money Records, the record label that signed Drake, Nicki Minaj, and Lil' Wayne, Brian "Birdman" Williams is known for his betting, which he intensively shares on social media. The musician and producer with an estimated net worth of $100 million lacks strategy, so he loses more than he wins. One of his most significant losses includes the $2 million bet he placed on the Miami Heat winning the 2011 NBA finals series.
9. Charles Barkley
Another retired NBA player known for his gambling is Charles Barkley. As a sports bettor, Charles Barkley is known for his impressive losses, as he confessed to losing over $10 million in total, out of which $2.5 million in just 6 hours.
Attract high-profile bettors with the best odds out there
If you want to position yourself as the bookmaker of choice for constant bettors, you must attract them with accurate odds, fixtures, and statistics based on cross-checked data.
This is where OddsMatrix comes in. Our solutions offer you access to real-time betting data feeds and sports data APIs that guarantee one of the industry's most precise pre-match and live data services.
Moreover, OddsMatrix offers you flexibility, allowing you to tweak odds and customize your sports data feeds.
Contact us, and let's discuss how we can make your betting business more productive.